Install Android 4.0.1 In Galaxy Tab
Install Android 4.0.1 In Galaxy Tab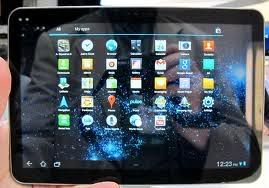 Install Android 4.0.1 In Galaxy Tab
Samsung Galaxy Tab is the company's first foray into the tablet market. This was followed more recently by the successful Galaxy Tab 7.0. Many users who have theoriginal Galaxy Tab may be keen to get the latest Android Ice Cream Sandwich (ICS)firmware on their devices. So here is a little guide for them.
ICS Install Android 4.0.1 Alpha 1 Build On Galaxy Tab
A working alpha port-based Android 4.0.1 AOSP Ice Cream Sandwich for the GalaxyTab has been released by a group of members of the XDA.
GPS, cameras, sensors, multitouch, Sound, and confirmed the external SD Card worksin Alpha ROM. Build does not include 3 soft keys that you can see on the Nexus Galaxy.This is because devices like the Galaxy Tab has a hardware partners in the form of a capacitive button, thus making the soft buttons are not necessary.
Honeycomb tablet reported the application works fine on port ICS.
NOTE: This ROM is only for devices with model numbers P1000.
DO NOT use this ROM if you have or P1000N P1010.
Disclaimer: This procedure has not been tested by us. We are not responsible if youbrick your device. Proceed with discretion.
Install Android 4.0.1 ICSAlpha 1 Build  Galaxy Tab
1. Download the latest Android 4.0.1 ICS ROM for Galaxy Tab from XDA forum thread.
The developers will be releasing updated ICS ROMs every time they fix something or include some features. Make sure you get the latest ROM from the above mentioned thread.
2. Connect your Galaxy Tab to your Computer and mount USB Storage.
3. Copy the downloaded ICS ROM to your SDCard.
4. Reboot your device into recovery mode.
5. Next, perform a backup and wipe data.
6. Now go to Main Menu and select Install zip from SDCard –> Choose zip from SDCard. Browse and select the ICS ROM zip file you earlier transferred to your SDCard.
7. Let the ICS ROM be flashed on your Galaxy Tab.
8. Reboot the device.
That's it. Your Galaxy Tab should now be up on the latest Android Ice Cream Sandwich.
Ever since trying a
gallery wordpress plugin
my site's traffic has massively increased.
About The Author
Related posts